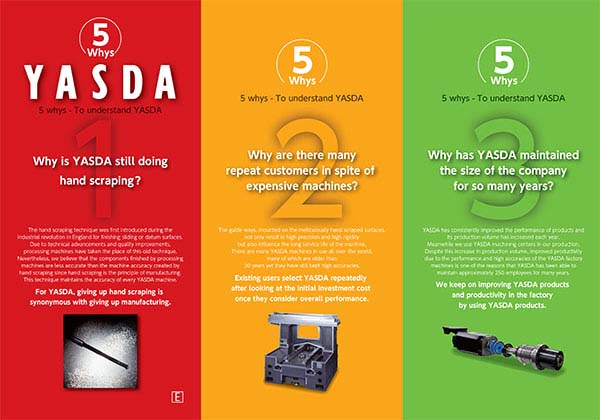 Yasda designs and builds every machining center based on these concepts:
Higher accuracy produces greater profitability.
Machining centers with the highest accuracy in every workshop.
Machining centers that repeat the same accuracy at any position of its envelope.
Machining centers that help minimize every after-machining process and simplify the customers' total process.
Machining centers that excite workers and keep the same performance for many years.
All contribute to the highest customers' ROI: Return On Investment.
YASDA Machines Feature:
In-house designed and built spindle - highly reputed for its precision, robustness and extra-long spindle life. YASDA's original preload self-adjusting system is employed for all the spindles for YBM Series, PX30i and H Series.
Hand scraping for all critical mating faces of the base components. Every mounting face of guide ways is hand scraped. In addition we hand scrape the spindle flange, ball screw assembly, mating of the bridge/saddle onto the bed, some table surfaces, base of rotation axes, etc.
Through hardened box ways the YBM Series offers double width compared to general guide ways currently on the market. Ultra-precision type LM ways for YMC Micro Centers, having extra supporting area and smoothness comparable to some precision grinding machines.
Heavy and robust machine mass with complete symmetrical design. Machine bases that sustain the stability of every motion axis even during the time of hard and tough machining process.
Thermal distortion stabilizing system. Temperature controlled oil is circulated through main castings of the base machine, e.g. spindle head, saddle and under the motor driven tables. In several models it is circulated through the bed.
Unique mechanical design. We develop the best base structure for every different size and model, in order to achieve the highest and most stable machining accuracy at the customers' work shop.
Extra high accuracy standard in every assembly process.
Latest CNC control utilizing YASDA's user-friendly software functions.
Extra-high repeatability of pallet change within a few μm, for all models, by having curvic coupling system or unique pallet change mechanism.
Ultra-high accuracy in in-house built tilting rotary tables: RT tables for YMC Series, YBM Ti / TT Series, YBM Vi40, etc.